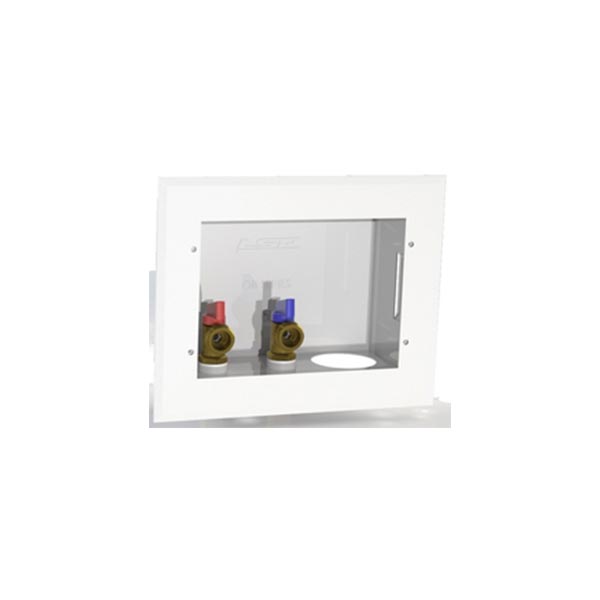 Metal Washing Machine Outlet Box
Available in reversible left or right outlet and center outlet models. Easy to install. Packaged with faceplate. Valves certified to ASME A112.18.1/CSA B125.1 Standard. 20 gauge, with white powdercoat paint. Patented design. Quarter Turn Ball Valve. Dimensions: Box: 5-7/8″ x 8-11/3″ x 3-1/2″.
Faceplate: 8-1/4″ x 10-5/16″. All come unassembled.
Add "-T" to the end of the part number for Tract Pack (faceplates packaged separately)
Spec Sheet

Product Chart

Reversible Outlet, WITHOUT VALVES
Item #:

OB-500

Left or Right Outlet, WITH COPPER SWEAT VALVES
Item #:

OB-501

Center Outlet, WITH COPPER SWEAT VALVES
Item #:

OB-502

Left or Right Outlet, WITH COPPER SWEAT VALVES (Simplex handle included)
Item #:

OB-505

Center Outlet, WITH CRIMP PEX VALVES
Item #:

OB-506

Center Outlet, WITH UPONOR ProPEX® VALVES
Item #:

OB-525

White, Center Outlet, WITH CPVC VALVES
Item #:

OB-550

Left or Right Outlet, WITH CPVC VALVES
Item #:

OB-551