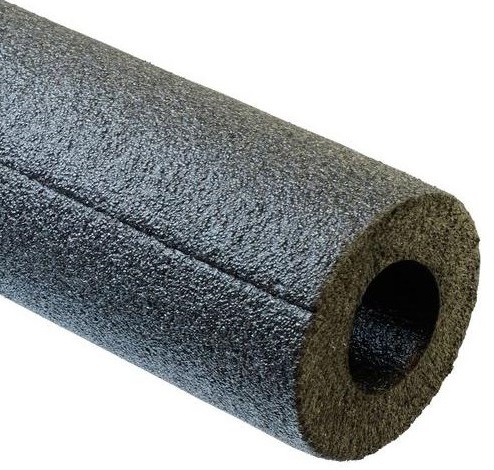 Foam (Half-Slit) 3/8″-1/2″ Wall Thickness
Polyolefin foam insulation is available in a wide variety of sizes and styles. Whether you require an un-slit design for a slide on application or a peel and seal design for existing projects, LSP carries the right foam insulation product for you. Made in the U.S.A.
CTS: Copper Tube Size
SS: Peel & Seal Seam Closure Feature
HS: Half-Slit Design
IPS: Iron Pipe Size
Note: Uncommon sizes may require a longer lead time.
Minimum order size may apply.
Spec Sheet

Product Chart
NOMINAL WALL THICKNESS 3/8", SELF-SEALING, 5/8" NOMINAL I.D., 1/2" NOMINAL CTS, 5/8" O.D. CTS, 3/8" IPS NOMINAL
NOMINAL WALL THICKNESS 3/8", HALF-SLIT, 5/8" NOMINAL I.D., 1/2" NOMINAL CTS, 5/8" O.D. CTS, 3/8" IPS NOMINAL
NOMINAL WALL THICKNESS 3/8", SELF-SEALING, 100 MOQ, 3/4" NOMINAL I.D., 5/8" NOMINAL CTS, 3/4" O.D. CTS, 1/2" IPS NOMINAL
NOMINAL WALL THICKNESS 3/8", HALF-SLIT, 100 MOQ, 3/4" NOMINAL I.D., 5/8" NOMINAL CTS, 3/4" O.D. CTS, 1/2" IPS NOMINAL
NOMINAL WALL THICKNESS 3/8", SELF-SEALING, 7/8" NOMINAL I.D., 3/4" NOMINAL CTS, 7/8" O.D. CTS
NOMINAL WALL THICKNESS 3/8", HALF-SLIT, 7/8" NOMINAL I.D., 3/4" NOMINAL CTS, 7/8" O.D. CTS
NOMINAL WALL THICKNESS 3/8", SELF-SEALING, 100 MOQ, 1" NOMINAL I.D., 3/4" IPS NOMINAL
NOMINAL WALL THICKNESS 3/8", HALF-SLIT, 100 MOQ, 1" NOMINAL I.D., 3/4" IPS NOMINAL
NOMINAL WALL THICKNESS 3/8", SELF-SEALING, 1-1/8" NOMINAL I.D., 1" NOMINAL CTS, 1-1/8" O.D. CTS
NOMINAL WALL THICKNESS 3/8", HALF-SLIT, 1-1/8" NOMINAL I.D., 1" NOMINAL CTS, 1-1/8" O.D. CTS
NOMINAL WALL THICKNESS 3/8", SELF-SEALING, 100 MOQ, 1-1/4" NOMINAL I.D., 1" IPS NOMINAL
NOMINAL WALL THICKNESS 3/8", HALF-SLIT, 100 MOQ, 1-1/4" NOMINAL I.D., 1" IPS NOMINAL
NOMINAL WALL THICKNESS 3/8", SELF-SEALING, 1-3/8" NOMINAL I.D., 1-1/4" NOMINAL CTS, 1-3/8" O.D. CTS
NOMINAL WALL THICKNESS 3/8", HALF-SLIT, 1-3/8" NOMINAL I.D., 1-1/4" NOMINAL CTS, 1-3/8" O.D. CTS
NOMINAL WALL THICKNESS 3/8", SELF-SEALING, 1-5/8" NOMINAL I.D., 1-1/2" NOMINAL CTS, 1-5/8" O.D. CTS, 1/4" IPS NOMINAL
NOMINAL WALL THICKNESS 3/8", HALF-SLIT, 1-5/8" NOMINAL I.D., 1-1/2" NOMINAL CTS, 1-5/8" O.D. CTS, 1/4" IPS NOMINAL
NOMINAL WALL THICKNESS 3/8", SELF-SEALING, 100 MOQ, 2" NOMINAL I.D., 1-1/2" IPS NOMINAL
NOMINAL WALL THICKNESS 3/8", HALF-SLIT, 100 MOQ, 2" NOMINAL I.D., 1-1/2" IPS NOMINAL
NOMINAL WALL THICKNESS 3/8", SELF-SEALING, 2-1/8" NOMINAL I.D., 2" NOMINAL CTS, 2-1/8" O.D. CTS
NOMINAL WALL THICKNESS 3/8", HALF-SLIT, 2-1/8" NOMINAL I.D., 2" NOMINAL CTS, 2-1/8" O.D. CTS
NOMINAL WALL THICKNESS 3/8", SELF-SEALING, 100 MOQ, 2-3/8" NOMINAL I.D., 2" IPS NOMINAL
NOMINAL WALL THICKNESS 3/8", HALF-SLIT, 100 MOQ, 2-3/8" NOMINAL I.D., 2" IPS NOMINAL
NOMINAL WALL THICKNESS 3/8", SELF-SEALING, 2-5/8" NOMINAL I.D., 2-1/2" NOMINAL CTS, 2-5/8" O.D. CTS
NOMINAL WALL THICKNESS 3/8", HALF-SLIT, 2-5/8" NOMINAL I.D., 2-1/2" NOMINAL CTS, 2-5/8" O.D. CTS
NOMINAL WALL THICKNESS 3/8", SELF-SEALING, 100 MOQ, 2-7/8" NOMINAL I.D., 2-1/2" IPS NOMINAL
NOMINAL WALL THICKNESS 3/8", HALF-SLIT, 100 MOQ, 2-7/8" NOMINAL I.D., 2-1/2" IPS NOMINAL
NOMINAL WALL THICKNESS 3/8", SELF-SEALING, 3-1/8" NOMINAL I.D., 3" NOMINAL CTS, 3-1/8" O.D. CTS
NOMINAL WALL THICKNESS 3/8", HALF-SLIT, 100 MOQ, 3-1/8" NOMINAL I.D., 3" NOMINAL CTS, 3-1/8" O.D. CTS
NOMINAL WALL THICKNESS 3/8", SELF-SEALING, 3-1/2" NOMINAL I.D., 3" IPS NOMINAL
NOMINAL WALL THICKNESS 3/8", HALF-SLIT, 100 MOQ, 3-1/2" NOMINAL I.D., 3" IPS NOMINAL
NOMINAL WALL THICKNESS 3/8", SELF-SEALING, 100 MOQ, 3-5/8" NOMINAL I.D., 3-1/2" NOMINAL CTS, 3-5/8" O.D. CTS
NOMINAL WALL THICKNESS 3/8", HALF-SLIT, 100 MOQ, 3-5/8" NOMINAL I.D., 3-1/2" NOMINAL CTS, 3-5/8" O.D. CTS
NOMINAL WALL THICKNESS 3/8", SELF-SEALING, 100 MOQ, 4-1/8" NOMINAL I.D., 4" NOMINAL CTS, 4-1/8" O.D. CTS
NOMINAL WALL THICKNESS 3/8", HALF-SLIT, 4-1/2" NOMINAL I.D., 4" IPS NOMINAL
NOMINAL WALL THICKNESS 3/8", SELF-SEALING, 100 MOQ, 4-1/2" NOMINAL I.D., 4" IPS NOMINAL
NOMINAL WALL THICKNESS 1/2", HALF-SLIT, 5/8" NOMINAL I.D., 1/2" NOMINAL CTS, 5/8" O.D. CTS, 3/8" IPS NOMINAL
NOMINAL WALL THICKNESS 1/2", SELF-SEALING, 5/8" NOMINAL I.D., 1/2" NOMINAL CTS, 5/8" O.D. CTS, 3/8" IPS NOMINAL
NOMINAL WALL THICKNESS 1/2", HALF-SLIT, 100 MOQ, 3/4" NOMINAL I.D., 5/8" NOMINAL CTS, 3/4" O.D. CTS, 1/2" IPS NOMINAL
NOMINAL WALL THICKNESS 1/2", SELF-SEALING, 7/8" NOMINAL I.D., 3/4" NOMINAL CTS, 7/8" O.D. CTS
NOMINAL WALL THICKNESS 1/2", HALF-SLIT, 7/8" NOMINAL I.D., 3/4" NOMINAL CTS, 7/8" O.D. CTS
NOMINAL WALL THICKNESS 1/2", SELF-SEALING, 1" NOMINAL I.D., 3/4" IPS NOMINAL
NOMINAL WALL THICKNESS 1/2", HALF-SLIT, 100 MOQ, 1" NOMINAL I.D., 3/4" IPS NOMINAL
NOMINAL WALL THICKNESS 1/2", SELF-SEALING, 1-1/8" NOMINAL I.D., 1" NOMINAL CTS, 1-1/8" O.D. CTS
NOMINAL WALL THICKNESS 1/2", HALF-SLIT, 1-1/8" NOMINAL I.D., 1" NOMINAL CTS, 1-1/8" O.D. CTS
NOMINAL WALL THICKNESS 1/2", SELF-SEALING, 1-1/4" NOMINAL I.D., 1" IPS NOMINAL
NOMINAL WALL THICKNESS 1/2", HALF-SLIT, 100 MOQ, 1-1/4" NOMINAL I.D., 1" IPS NOMINAL
NOMINAL WALL THICKNESS 1/2", SELF-SEALING, 1-3/8" NOMINAL I.D., 1-1/4" NOMINAL CTS, 1-3/8" O.D. CTS
NOMINAL WALL THICKNESS 1/2", HALF-SLIT, 1-3/8" NOMINAL I.D., 1-1/4" NOMINAL CTS, 1-3/8" O.D. CTS
NOMINAL WALL THICKNESS 1/2", SELF-SEALING, 1-5/8" NOMINAL I.D., 1-1/2" NOMINAL CTS, 1-5/8" O.D. CTS, 1/4" IPS NOMINAL
NOMINAL WALL THICKNESS 1/2", HALF-SLIT, 1-5/8" NOMINAL I.D., 1-1/2" NOMINAL CTS, 1-5/8" O.D. CTS, 1/4" IPS NOMINAL
NOMINAL WALL THICKNESS 1/2", SELF-SEALING, 2" NOMINAL I.D., 1-1/2" IPS NOMINAL
NOMINAL WALL THICKNESS 1/2", HALF-SLIT, 100 MOQ, 2" NOMINAL I.D., 1-1/2" IPS NOMINAL
NOMINAL WALL THICKNESS 1/2", SELF-SEALING, 2-1/8" NOMINAL I.D., 2" NOMINAL CTS, 2-1/8" O.D. CTS
NOMINAL WALL THICKNESS 1/2", HALF-SLIT, 2-1/8" NOMINAL I.D., 2" NOMINAL CTS, 2-1/8" O.D. CTS
NOMINAL WALL THICKNESS 1/2", SELF-SEALING, 2-3/8" NOMINAL I.D., 2" IPS NOMINAL
NOMINAL WALL THICKNESS 1/2", HALF-SLIT, 2-3/8" NOMINAL I.D., 2" IPS NOMINAL
NOMINAL WALL THICKNESS 1/2", SELF-SEALING, 2-5/8" NOMINAL I.D., 2-1/2" NOMINAL CTS, 2-5/8" O.D. CTS
NOMINAL WALL THICKNESS 1/2", HALF-SLIT, 2-5/8" NOMINAL I.D., 2-1/2" NOMINAL CTS, 2-5/8" O.D. CTS
NOMINAL WALL THICKNESS 1/2", SELF-SEALING, 2-7/8" NOMINAL I.D., 2-1/2" IPS NOMINAL
NOMINAL WALL THICKNESS 1/2", HALF-SLIT, 100 MOQ, 2-7/8" NOMINAL I.D., 2-1/2" IPS NOMINAL
NOMINAL WALL THICKNESS 1/2", SELF-SEALING, 3-1/8" NOMINAL I.D., 3" NOMINAL CTS, 3-1/8" O.D. CTS
NOMINAL WALL THICKNESS 1/2", HALF-SLIT, 3-1/8" NOMINAL I.D., 3" NOMINAL CTS, 3-1/8" O.D. CTS
NOMINAL WALL THICKNESS 1/2", SELF-SEALING, 3-1/2" NOMINAL I.D., 3" IPS NOMINAL
NOMINAL WALL THICKNESS 1/2", HALF-SLIT, 3-1/2" NOMINAL I.D., 3" IPS NOMINAL
NOMINAL WALL THICKNESS 1/2", SELF-SEALING, 100 MOQ, 3-5/8" NOMINAL I.D., 3-1/2" NOMINAL CTS, 3-5/8" O.D. CTS
NOMINAL WALL THICKNESS 1/2", HALF-SLIT, 3-5/8" NOMINAL I.D., 3-1/2" NOMINAL CTS, 3-5/8" O.D. CTS
NOMINAL WALL THICKNESS 1/2", SELF-SEALING, 4-1/8" NOMINAL I.D., 4" NOMINAL CTS, 4-1/8" O.D. CTS
NOMINAL WALL THICKNESS 1/2", SELF-SEALING, 100 MOQ, 4-1/8" NOMINAL I.D., 4" NOMINAL CTS, 4-1/8" O.D. CTS
NOMINAL WALL THICKNESS 1/2", HALF-SLIT, 4-1/2" NOMINAL I.D., 4" IPS NOMINAL
NOMINAL WALL THICKNESS 1/2", SELF-SEALING, 100 MOQ, 4-1/2" NOMINAL I.D., 4" IPS NOMINAL