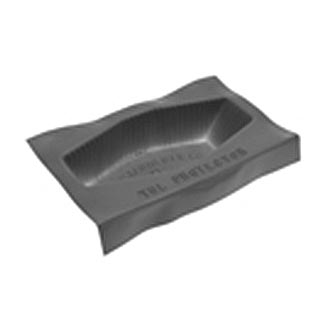 Tub Protectors
The Original Patented Foam Based Tub Protector. An Inexpensive Way to Protect Your Valuable Tub.
• Made of heavy gauge high-impact plastic
• Soft foam bottom grips tub surface to protect finish from the abrasive action resulting from a
protector moving under workman's feet
• No set up or assembly time as you just pull out of the box and drop it into the tub
• Nest together for space-saving storage
• Most durable protectors yet, can often be reused
• Fits both left and right-hand drain tubs
• Larger sizes are available and we can make custom fit protectors for larger jobs
• Made in the U.S.A.
Contact CustomerService@LSPproducts.com for Spec Sheets
Product Chart
60" x 30" x 14", FOAM BOTTOM TUB PROTECTORS
60" x 30" x 16", FOAM BOTTOM TUB PROTECTORS
60" x 42" x 16", FOAM BOTTOM TUB PROTECTORS
BULK, FOAM BOTTOM TUB PROTECTORS
BULK, FOAM BOTTOM TUB PROTECTORS
60" x 30" x 14", NO FOAM BOTTOM TUB PROTECTORS
60" x 30" x 16", NO FOAM BOTTOM TUB PROTECTORS
60" x 42" x 16", NO FOAM BOTTOM TUB PROTECTORS
BULK, NO FOAM BOTTOM TUB PROTECTORS
BULK, NO FOAM BOTTOM TUB PROTECTORS