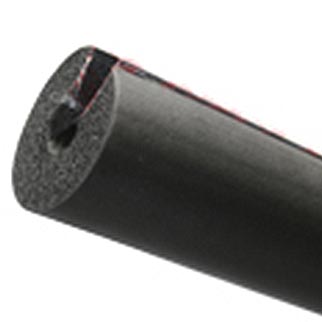 Rubber (Seam Seal)
Rubber insulation is available in a wide variety of sizes. Made for existing pipe systems so the insulation can slip over the pipe and then be sealed.
CTS: Copper Tube Size
IPS: Iron Pipe Size
Note: Uncommon sizes may require a longer lead time.
Minimum order size may apply.
Spec Sheet

Product Chart
1/2" WALL, 2" INSULATION NOMINAL I.D., 1-1/2" IPS NOMINAL, 108 LINEAR FT/CTN
1/2" WALL, 2-1/8" INSULATION NOMINAL I.D., 2" CTS NOMINAL I.D. (PLMB), 2-1/8" CTS O.D. (HVAC/R), 60 LINEAR FT/CTN
1/2" WALL, 4-1/8" INSULATION NOMINAL I.D., 4" CTS NOMINAL I.D. (PLMB), 4-1/8" CTS O.D. (HVAC/R), 3-1/2" IPS NOMINAL, 24 LINEAR FT/CTN