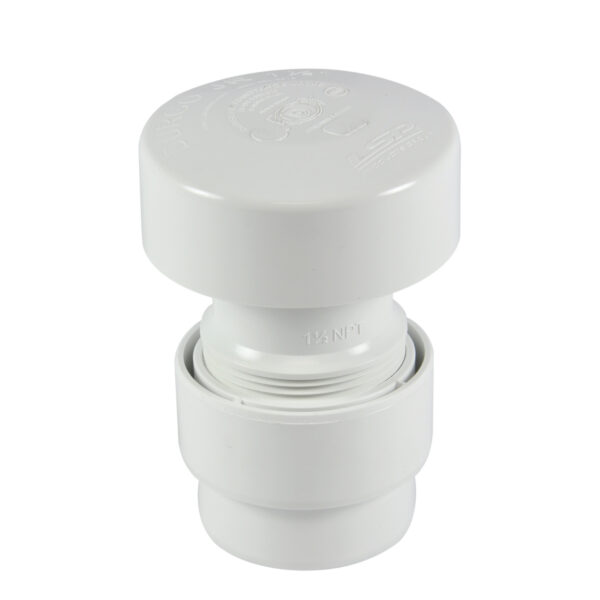 Durgo Air Admittance Valves
Faster. Better. Smarter.
Air Admittance Valves (AAV) provide an acceptable means for ventilating a plumbing drainage system without venting through the roof or to open atmosphere. AAVs ensure that no sewer gases or liquids will enter the building through the valve.
The AAV closes by gravity, sealing at zero-differential pressure and remains closed under positive internal pressure (back pressure). It opens under negative pressure to allow proper drainage to occur without siphoning of fixture traps.
AAVs are offered with adapters in three different sizes to handle all applications.
• Junior: Perfect for horizontal runs in residential applications.
• Senior: Great for stack or branch systems.
• US90 3″: For large or commercial requirements.
• Wall Box and Louver offers a recessed clean look for AAVs in visible locations.
Code Approvals:
• Manufactured in compliance with ASSE 1051, ASSE 1050 (Except Durgo Jr.)
• Installation shall be in accordance with local code requirements
Spec Sheet

Product Chart

Durgo Senior 1 1/2" - 2" w/ White ABS Adapter (20 DFU)
Item #:

P-3700

Durgo Senior 1-1/2" - 2" w/ PVC Adapter (20 DFU)
Item #:

P-3701

Durgo Junior 1-1/2" - 2" w/ White ABS Adapter (20 DFU)
Item #:

P-3702

Durgo Junior 1-1/2" - 2" w/ PVC Adapter (20 DFU)
Item #:

P-3703

Durgo US90 3"
Item #:

P-3704

AAV Wall Box w/ Louver Faceplate
Item #:

OBAV-200

AAV Wall Box w/ Louver Faceplate & Durgo Jr 1-1/2" - 2" w/ White ABS Adapter
Item #:

OBAV-3702

AAV Wall Box w/ Louver Faceplate & Durgo Jr 1-1/2" - 2" w/ PVC Adapter
Item #:

OBAV-3703

White AAV Wall Box Louver Faceplate, ACCESSORIES / REPLACEMENT PARTS
Item #:

P-00961

ACCESSORIES / REPLACEMENT PARTS: 1-1/2" White ABS Adapter
Item #:

P-3705

ACCESSORIES / REPLACEMENT PARTS: 1-1/2" PVC Adapter
Item #:

P-3706